JOY! Conservatory
Now entering its tenth year, the JOY! Conservatory program provides full scholarships and unique educational opportunities for talented and highly motivated young musicians who sing, play an instrument, or are interested in music composition, through a competitive application and audition process.
During the academic year, students accepted into the JOY! Conservatory participate in a rigorous course of study that may include:
Weekly instrumental/vocal lessons with private teacher of choice for one school year. 
The opportunity for instruction in music theory and participation in master classes and ensemble coachings.
The opportunity to perform in a JOY! Conservatory recital Students enrolled in the JOY! Conservatory Program also have the opportunity to attend select professional performances, concerts, recitals, and master classes, at Jorgensen and the UConn School of Fine Arts in Storrs at no cost.

APPLICATIONS ARE NOW CLOSED
Applications for JOY! Conservatory Program Scholarships are accepted annually in the late spring. Thank you to all who applied this year.

JOY! Conservatory Program Scholarships are open to junior high and high school aged students in grades 8-12 who demonstrate talent, committment and financial need. To apply, the student must complete our application form (available online during the application period), and will need a letter of reference from a teacher or musican familiar with the students's talents and abilities. Additionally, the student must prepare two pieces of contrasting style that most exemplify their talent and musicianship for an audition. More details will be available during the next application period in 2019. 

For more information, please contact: 

Dr. Ryan Burns
JOY! Scholarship Coordinator
ryan.burns@uconn.edu 

 
JOY CONSERVATORY HIGHLIGHT: Amy Goto Appears on NPR'S From the Top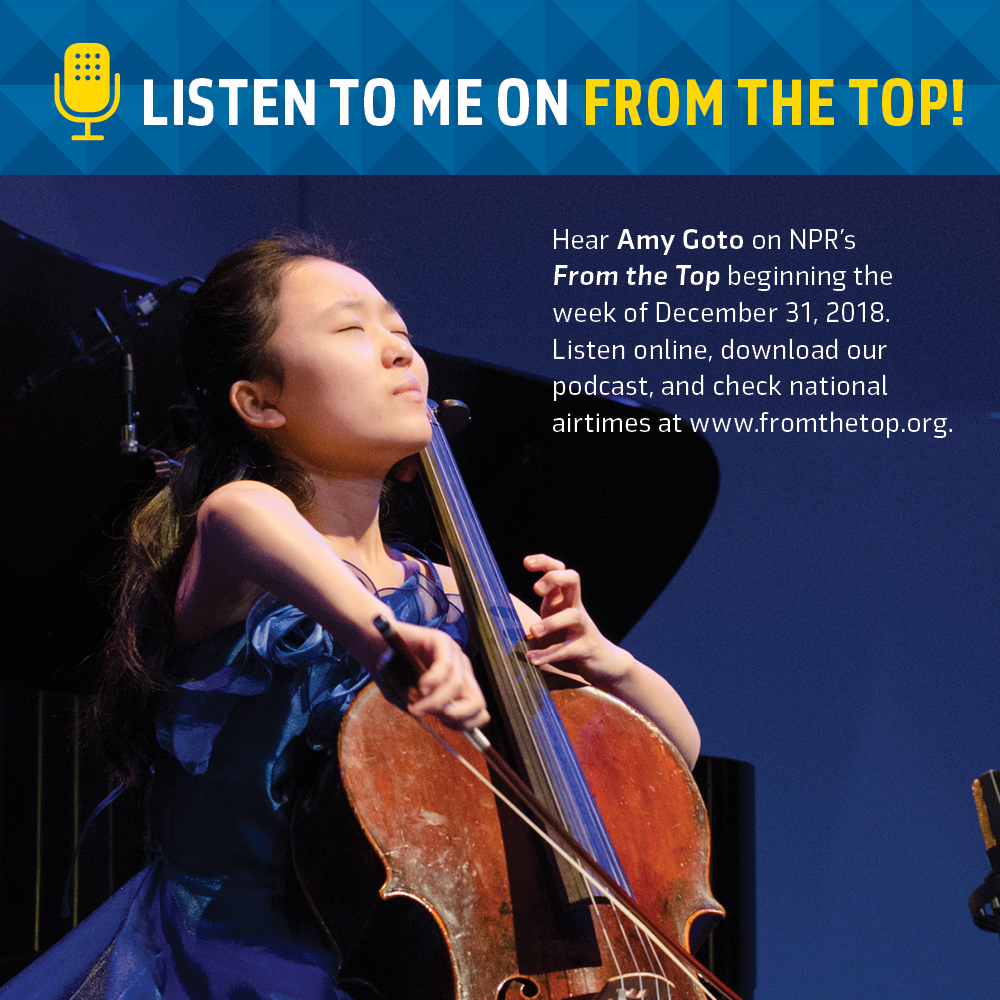 14-year-old cellist Amy Goto from Kingston, Rhode Island
will appear on an upcoming episode of
From the Top, 
the hit NPR radio program featuring America's best young classical musicians. The show will air by podcast at 
fromthetop.org
beginning
December 31
. The broadcast features performances and interviews with outstanding young musicians and Guest Host Molly Yeh and Co-Host/Pianist Peter Dugan and was taped before a live audience at the University of Connecticut's Jorgensen Center for the Performing Arts this fall.
Amy is in ninth grade and is a 2018-19 participant in the
JOY! Conservatory program
(Jorgenson Outreach for Youth – JOY), and studies cello with Philippe Muller of the Manhattan School of Music. She won the Encouragement ("Hope") Award at the IX International Tchaikovsky Competition for Young Musicians in 2015, attended Musica Mundi in 2016 and performed in the gala concert as soloist with the festival orchestra, she was a participant of the Young Performers Program at Music@Menlo in 2017, and attended Domaine Forget in 2018. Amy also loves listening to and watching ballet and opera, learning foreign languages, and traveling.
On the broadcast, Amy performs Pezzo Capriccioso by Pyotr Ilyich Tchaikovsky (1840-1893), with Peter Dugan, piano.
Also featured on the broadcast:
17-year-old pianist Tristan Paradee from Burbank, California;
17-year-old flutist Laura Futamura from Middletown, New Jersey;
16-year-old harpist Priyanka Gohal from Jamestown, Indiana;
15-year-old violinist Ethan Fisher-Chaves from Charlton, Massachusetts;
performing works by Tchaikovsky, Prokofiev, Brahms, Zabel, and Coleman.
Ethan Fisher-Chaves, Priyanka Gohal, and Tristan Paradee will also receive From the Top's Jack Kent Cooke Young Artist Award in conjunction with their performances on the show. The award of up to $10,000 is given to deserving young musicians to help further their musical studies.
Broadcast on more than 220 stations nationwide to an audience of nearly half a million listeners, From the Top is the most popular weekly one-hour music program on public radio. Young performers share their passion for classical music, and speak about their non-musical lives, from career goals and family traditions to hidden talents, school, and community life. From the Top appeals to diverse audiences, but is especially suited for ages 7 and up.

About From the Top
Based in Boston, From the Top is an independent non-profit organization that supports, develops, and shares the artistic voices and stories of young classically-trained musicians. Its national platform and leadership programs amplify the hope, passion, and discipline of today's extraordinary young musicians.
From the Top provides young musicians with live performance opportunities in premier concert venues across the country; national exposure to over a half million listeners on its weekly NPR show; leadership and community engagement preparation; and nearly $3 million in scholarships since 2005.
From the Top's programs are made possible in part by an award from the National Endowment of the Arts, a grant from the Jack Kent Cooke Foundation, and partnerships with radio stations nationwide. 
Learn more at
www.fromthetop.org